MUTANT LABS SCOOPS National EXCELLENCE IN INNOVATION AWARD WITH
Business Mentors South West and Volunteer Mentor Support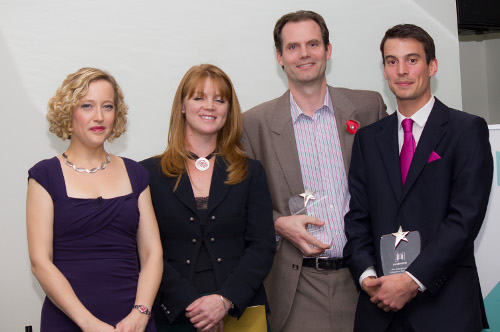 An award winning mobile app and game developer has credited the ongoing support it receives from a mentor with Business Mentors South West for boosting its success as it moves to pursue growth opportunities overseas.

BMSW Mentor Duncan Webster and Mutant Labs won the Excellence in Innovation category at the inaugural Excellence in Enterprise Mentoring Awards, hosted by mentorsme.co.uk at the BAFTA building in London.

The firm, which was also shortlisted in the Excellence in Export category, has been mentored Duncan since June 2012 when they were in the early start up phase and specialises in developing games and apps for tablets and smartphones.

Co-founder Alex Ryley said: "Working with a mentor has given us a new perspective on the business and how we can tackle challenges and set ourselves goals."

"Duncan has great experience in the tech world and has helped us stay on the right track to success.
Duncan supported the team by helping develop an action plan to achieve its goal of building revenue from overseas markets.

Duncan said: "Working with Mutant Labs has been really satisfying, especially helping them develop a long-term strategy to create a self-sustaining business.

"I have learnt a lot from the process and it has given me the opportunity to give something back to UK businesses."
Black Energy scoops National Award at BT Tower
A rural start up business scooped the national award for "Business Start Up", presented at the BT Tower in London 2014.
Rachael was one of only 5 businesses around the U.K to be presented with an award at the prestigious "Mentors Me" Excellence in Womens' Mentoring Awards.
The event was attended by a number of prominent guests, including Jo Swinson M.P., Minister for Women and Equalities.
Rachel pictured below sais :
]"I am delighted to receive this award. It means so much to us to be recognised for our work, integrity and vision. Although Black Energy is still a relatively young enterprise we collectively have over 10 years experience in this sector and we are just as excited about this ever evolving industry as we were all those years ago.
Bruce also won an award for his excellence in mentoring Rachael and providing valuable guidance to her business.
Bruce is a retired senior finance manager, and has brought the skills he has gained in his commercial and finance career to help Rachael develop a strong foundation from which the business can successfully grow.
He commented "of course I am proud for Rachael and for myself, but I am also proud that the enterprise is competing successfully and ethically at the leading edge of these new technologies, and that this is happening in a SW rural area. Innovation and development is happening here and now, and that has to be a good thing for our community in the South West".
Bruce provides volunteer mentoring and was introduced to Rachel by Business Mentors South West who assist approximately 400 businesses from a pool of over 160 dedicated volunteer mentors.
2 London 2015 awards in Start Up and Innovation and Export
The Digital Catapult Centre was the venue for two SW businesses and their mentors to receive their accolades towards the end of 2015. What an end to this year !
Medincle a digital business started by medical students at Bristol received the start up award with mentor Duncan.
James Carr at Rokono scooped the innovation and export award with his mentor Tim.
Both client businesses were supported by Business Mentors South West who arranged volunteer business mentors Duncan and Tim to provide support for start up and growth in export.
Pictured below are :