BRISTOL UNIVERSITY STUDENTS COMPETE FOR BUSINESS AWARD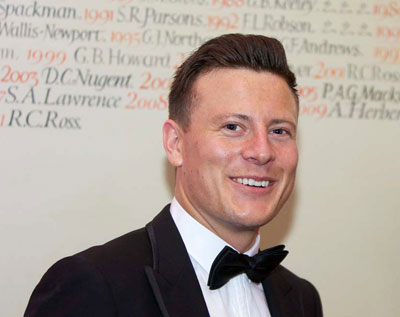 Enterprise Awards winner in the South West:
Tom Anderson-Dixon – Squash Stix

Students from the University of Bristol are gearing up to battle for the title of best new enterprise along with business support and cash prizes, in a competition organised by the university and supported by Lloyds Banking Group.
Opening for competitors in March 2014, the New Enterprise Competition (NEC) is the university's flagship business challenge to find the best original idea for a self-sustaining firm. Open to students, staff and alumni who have graduated within the past five years, the contest includes both commercial and social enterprises at every level from conceptual ideas to businesses in their first year of trading.

The annual event has a total prize pot of around £35,000, with the best entrants winning cash awards in addition to legal support and specialist enterprise mentoring packages to help support their growth.

Dave Jarman, head of enterprise education at the University of Bristol, said: "Now in their thirteenth year, the awards are hugely popular and help to attract and showcase some of the most unique and original talent and ideas from across the university.

"Throughout the competition we provide educational events, opportunities for feedback and support, and the chance to meet all kinds of useful contacts, which ensures that everyone who takes part benefits from the experience somehow.

"The mentoring support is an important part of the prize, as we've seen for ourselves the benefits that a mentoring partnership can bring to businesses, which is why we are involved in a number of similar initiatives to support our students in their ventures."

Up to 10 finalists will be offered Lloyds Banking Group mentorships, with mentees having access to face-to-face meetings with their mentor on a monthly basis as needed, as well as being able to phone and email them on a more regular basis with simple queries and questions.

The trained mentors will be carefully matched to the winning enterprises by Business Mentors South West, an organisation that aims to support enterprises by providing mentoring services to business owners and leaders who are seeking to grow and improve their company's performance, covering an area from Cornwall to Gloucestershire.

Jackie Jenks, senior manager enterprise mentoring at Lloyds Banking Group, said: "While financial investment is crucial to starting and growing a young business, mentoring support can also make a huge difference to providing an entrepreneur with an objective perspective for sounding out new ideas or providing contact with other professionals in the area.

"Working with organisations like Business Mentors South West we are able to tap into an enormous wealth of business experience and knowledge from across the region, which ensures that we are able to find a suitable mentor for every mentee, whatever their sector or specific needs."

ENDS

March 2014

Issued on behalf of Lloyds Bank Commercial Banking by Citypress.
More information: Chris McIntyre on 0161 235 0305 / chris.mcintyre@citypress.co.uk

Notes to editors
To register an interest in applying please contact Dave Jarman in the Enterprise Education Team: dave.jarman@bristol.ac.uk
For more information and to apply, please go to: http://www.bris.ac.uk/red/nec

About the Mentoring Scheme
The Business Finance Taskforce (BFT) mentoring initiative was set up by the banks and the British Banking Association (BBA) to help the economy return to sustainable growth by supporting businesses.

Lloyds Banking Group has pledged 20,000 hours of time and has more trained Enterprise mentoring volunteers than any other BFT organisation*. The bank has an exceptional breadth of mentors from across the company - from senior management to specialist finance departments.

More information about Lloyds Banking Group's mentoring commitment can be found at http://businesshelp.lloydstsbbusiness.com/managing/mentoring/

One of the key commitments within the initiative was to establish a free enterprise mentoring scheme. Further information can be found on the website www.mentorsme.co.uk

For more information about Business Mentors South West please go to: http://www.businessmentorssouthwest.co.uk/

* Correct as of 2nd May 2012


Lloyds Bank Commercial Banking
Lloyds Bank Commercial Banking provides comprehensive expert financial services to businesses of all sizes, from start-ups, through to small businesses, mid-sized businesses and multinational corporations. These corporate clients range from privately-owned firms to FTSE 100 PLCs, multinational corporations and financial institutions.

Maintaining a network of relationship teams across the UK, as well as internationally, Lloyds Bank Commercial Banking delivers the mix of local understanding and global expertise necessary to provide long-term support and advice to its clients.

Lloyds Bank Commercial Banking offers a broad range of finance beyond just term lending and this spans import and export trade finance, structured and asset finance, securitisation facilities and capital market funding. Its product specialists provide bespoke financial services and solutions including tailored cash management, international trade, treasury and risk management services.
Its heritage means it has an unrivalled understanding of business needs and a proven track record of supporting businesses across the sectors and regions. Taking a relationship approach, it provides support to its clients throughout the economic cycle.